Welcome to Breezy Bay Cottage on Lake Nokomis Tomahawk, Wisconsin
Breezy Bay Cottage is available for rent all year long. If you need additional space or if we are booked, we can help coordinate rentals of other cottages like mine or a larger lake home on Lake Nokomis. Call 715-897-0746 or email info@breezybaycottage.com for availability.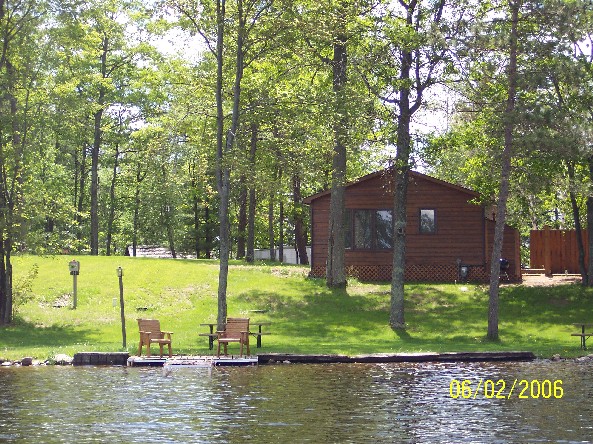 Breezy Bay Cottage, formerly Unit 7 of Breezy Bay Resort, is a 2 bedroom, 1 bath, 4 season cottage. It is part of the family friendly Breezy Bay Condominums that has access to 700 feet of prime shared frontage on 2400+ acre Lake Nokomis. The Lake Nokomis area is very popular for many recreational activities including boating, fishing, snowmobiling, biking, hiking, ATV riding, and sightseeing.
Breezy Bay Cottage features include:
- 597 square feet cottage
- 2 bedroom, 1 bath
- Firepit, picnic table
- Paddleboat
- 14' aluminum boat
- 32' dock
- Sandy beach, playground, basketball hoops
- Fully furnished kitchen
- Weber charcoal grill
- Outdoor patio furniture, lawn chairs
- TV with streaming services
- Family friendly with a great lake view
- Pine interior and antler lamps by Nicholet Antler Lighting for a northwoods appeal
- Conveniently located on a unique peninsula
- Easy access to snowmobile trails in both Lincoln and Oneida County
- ATV, biking, hiking, and cross country ski trails close by - Snowmobile and ATV trail reports
- Kayaks, water mat, tube, paddleboard, fish/ski boat, and pontoon rental available to our guests
Lake Nokomis information: Click here for Lake Nokomis Map information
- Popular 2433 acre lake
- Contains over 34 miles of shoreline
- Max depth 33 feet, average depth about 12 feet
- Part of the 4000+ acre Rice Flowage/Reservoir - water levels do fluctuate
- Water depth and contour charts of Nokomis can be obtained here on Navionics
- Public boat landings and recreational facilities available Click here for map of boat landings
- Class A1 Musky lake
- Excellent Walleye, Crappie, Northern Pike, Panfish, Musky, and Bass fishing Click here for fishing report . Go to MuskyTournaments.com for area Musky tournaments.
Breezy Bay Cottage is a member of the Lake Nokomis Concerned Citizens (LNCC) organization whose purpose is to support the continued growth, physical, economical and social aspects of the Nokomis Chain of Lakes and surrounding communities.